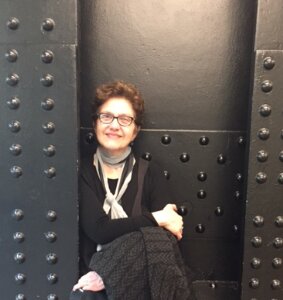 Contact Information
History
309 Gregory Hall
810 S Wright
M/C 466
Urbana, IL 61801

Research Areas
Research Interests
Modern Britain and empire; colonial India; women, gender and feminism; postcolonial studies; world history
Research Description
I'm a historian of 19th and 20th century Britain and its empire, with a specialty in colonial India and an ongoing interest in Australasia and Africa. I've written on topics ranging from feminism and colonialism to the relationship of empire to the nation and the world. Women, gender and sexuality have always been central to my research, much of which has been concerned with the role of Indian women in the imperial and postcolonial imagination. I've edited collections about politics, mobility, postcolonialism and empire and have frequently collaborated with Tony Ballantyne.
At Illinois I have taught courses on modern British history and imperialism, gender and colonialism, autobiography and the archive, approaches and methods and world history. I am currently working on a Bloomsbury series on the cultures of western imperialism and a Duke University Press series on history teaching.
I am currently the director of the campus humanities center, The Illinois Program for Research in the Humanities. For more information click here. I am also the Principal Investigator for the Andrew W. Mellon Foundation grant, Humanities Without Walls.
Education
B.A. Yale University, 1983
M.A. University of Chicago, 1984
Ph.D., University of Chicago, 1990
Grants
Provost Initiative for Teaching Advancement, for "World Histories from Below" graduate student/teacher training project, 2011-12
Sustainability Studies Initiative in the Humanities for course development, "Wars against Nature in the British Empire, 1750-1950," 2011-12
NEH Humanities Focus Grant, "The Undergraduate History Core in a Global Age," co-written with Tony Ballantyne and Peter Fritzsche, 2001
Awards and Honors
Swanlund Endowed Professor, University of Illinois, 2018-
Center for Advanced Study Professor, 2018-
Andrew W. Mellon Foundation, Humanities Without Walls, 2015-2020
John Simon Guggenheim Foundation Fellow, 2010-11
Sustainability Studies Initiative in the Humanities Fellowship, UIUC, 2011-12
National Endowment for the Humanities Fellowship, 2015 (declined)
Catherine C. and Bruce A. Bastian Professor of Global and Transnational Studies, University of Illinois, 2004-18
University Scholar, University of Illinois, 2001-2004
William Evans Residential Fellowship, University of Otago (Dunedin, NZ), 2004
American Philosophical Society Research Fellowship, 1995
NEH summer seminar, "The Culture of London, 1850-1925," Institute of Historical Research, London, 1995
American Council of Learned Societies Research Fellowship, 1993
Fulbright Scholar to the United Kingdom, 1987-88
Additional Campus Affiliations
Maybelle Leland Swanlund Endowed Chair, History
Professor, History
Professor, Unit for Criticism and Interpretive Theory
Professor, Gender and Women's Studies
Professor, National Center for Supercomputing Applications (NCSA)
CAS Professor, Center for Advanced Study
Director, Humanities Research Institute, Office of the Vice Chancellor for Research and Innovation

Recent Publications
Burton, A. (2020). Accounting for Colonial Legal Personhood: New Intersectional Histories from the British Empire. Law and History Review, 38(1), 143-150. https://doi.org/10.1017/S0738248019000798
Burton, A. (2019). Imperial by design: Field models in C. A. Bayly's remaking the modern world, 1900-2015. Journal of Asian Studies, 78(4), 849-858. https://doi.org/10.1017/S0021911819001141
Burton, A. (2019). Toward unsettling histories of domesticity. American Historical Review, 124(4), 1332-1336. https://doi.org/10.1093/ahr/rhz643
Burton, A., Devji, F., Sinha, M., Soske, J., Desai, A., & Vahed, G. (2018). Book Forum on The South African Gandhi: Stretcher-Bearer of Empire. Journal of Natal and Zulu History, 32(1), 100-118. https://doi.org/10.1080/02590123.2018.1447537
Burton, A. M. (2017). An ABC of Queen Victoria's Empire: Or a Primer of Conquest, Dissent and Disruption. Bloomsbury Academic Press.