Foreign Language & Area Studies Fellowships (FLAS)
FLAS fellowships support graduate and undergraduate study in modern foreign languages in combination with area studies, international studies, or international or area aspects of professional studies. These fellowships are administered by the University of Illinois Area Studies Centers and Programs (including the Center for Global Studies), under a Title VI grant from the U.S. Department of Education. These fellowships are awarded through an annual competition, and students from all departments and professional schools are encouraged to apply. Priority is given to the study of Less Commonly Taught Languages (LCTLs) and each Center has additional specific priorities.
CGS FLAS Priorities
Image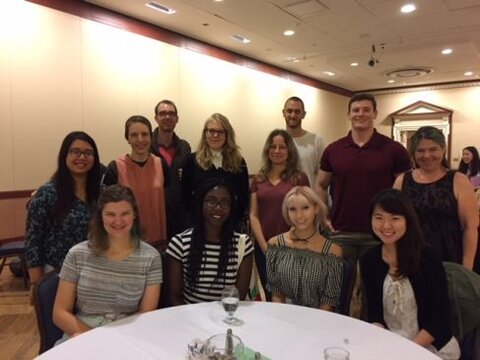 The objective of the Center for Global Studies (CGS) FLAS program is to provide graduate and undergraduate students of exceptional promise with the critical language and cultural skills they need to enter the global workforce upon graduation. Students in all disciplines are encouraged to apply, particularly those in the following professional fields: engineering, business, economics, health, agriculture, library and information science, social work, urban planning, education, media and communications, and those interested in working for government, non-governmental associations, and intergovernmental organizations.
Preference is given to students concentrating in an international area within their discipline. The CGS FLAS program provides undergraduate, graduate, and professional students the opportunity to learn a language and culture relevant to their projected professional work, without necessarily being expected to teach the language or be engaged in area studies.
Attendance Requirements
FLAS recipients are required to enroll in language study in both Fall and Spring semesters. In addition, CGS FLAS fellows are required to enroll in an approved Global Studies course each semester. Please consult with your advisor and FLAS coordinator regarding any non-GLBL courses you wish to count toward this requirement.
Information Sessions
Information sessions for students and departmental advisors will cover the requirements and deadlines, provide tips on writing a successful application, review of required supporting documents and guidelines on recommendations. Each session will cover the same topics. For more information, visit the FLAS fellowship website.
Fellowship Amounts
Graduate students: the 2022-23 academic year fellowship will provide a monthly stipend up to a total of $20,000 over a 9-month period, along with tuition and some fees, up to a total of
$18,000 (or $9,000 a semester).
Undergraduate students: the academic year 2022-23 Fellowship will provide a monthly stipend for a total of $5,000, over a 9 month period, and also includes up to $10,000 towards tuition and fees.
Summer awards can cover up to $5,000 toward tuition and fees of a summer language program and a stipend of $2,500.In some cases, a travel award may also be made.
Eligible Languages
Arabic, Bosnian-Serbian-Croatian, Chinese-Mandarin, Czech, Hebrew-Modern, Hindi, Italian, Japanese, Korean, Persian, Polish, Portuguese (Brazilian), Quechua, Russian, Swahili, Swedish, Turkish, Ukrainian, and Wolof.
Choosing A Language Program
The University of Illinois at Urbana-Champaign offers a wide variety of LCTL courses and programs, such as the Summer Institute for Languages of the Muslim World. If the language you wish to study is not offered on this campus, we suggest looking at the University of Minnesota's North American LCTL Course Listings. Overseas language programs must meet FLAS requirements and be approved in advance by the Department of Education. Online language courses are not eligible.
Applicant Eligibility
The FLAS award is generally for intermediate or advanced study of a less commonly taught language; however "an exception might be made for the beginning level of a less commonly taught language if a graduate student has achieved advanced proficiency in another language of the world area of specialization, and if learning a second language of that world area is required for the student's overall training and expertise."
Undergraduate Students must have at least a 3.0 GPA, must have already completed the Illinois language requirements, and must have been enrolled in their chosen language of study during the previous academic year.
Graduate FLAS fellowship applicants must be degree-seeking students in good academic standing enrolled in a graduate program at the University of Illinois.
Incoming students are eligible to receive a FLAS fellowship if they are accepted for enrollment or already enrolled full-time at the University of Illinois at Urbana-Champaign. Students applying from non-FLAS institutions may apply through UIUC; however, if you are selected to receive a fellowship, you must be enrolled as a full-time student at UIUC in order to accept the fellowship. Please also note that preference will be given to qualified UIUC students who are already enrolled or accepted for enrollment.
All applicants must be U.S. citizens, nationals, or permanent residents (green card).
Selection Criteria
CGS seeks candidates who give promise of becoming leaders in their field of study and professional work. Applicable measures include the applicant's academic record, extra-disciplinary and professional activities, and supportive materials, including letters of recommendation from close observers of the applicant's achievements. The statement of purpose should clearly indicate how the FLAS fellowship will advance both the professional career and potential for leadership within the candidate's field of specialization or in the performance of public service.
The following U.S. Department of Education guidelines also apply:
Overseas awards are for advanced and intermediate levels only, beginning level training can be funded only if courses are unavailable in the US.
Academic year FLAS awards for dissertation research abroad are subject to the prior approval by U.S. Department of Education Program officers, as is all travel abroad (FLAS fellows are responsible for initiating this approval process at least 60 days prior to departure). FLAS fellows must also remain enrolled at UIUC during their fellowship.
Academic year FLAS fellows approved for on-campus language study must also be enrolled in appropriate area studies courses.
Students may receive fellowships for multiple award periods if they compete successfully in each discrete competition.
Undergraduate students must study a Less Commonly Taught Language at the intermediate or advanced level.
CGS can set its own FLAS rules and requirements beyond the legislation and regulations, including limiting the number of FLAS awards a student may receive, as long as the rules do not conflict with the statute, federal regulations, the selection procedures outlined in the application narrative or the institution's guidelines and policies.
Limited to intensive language training (120-180 contact hours) and cannot be used for research abroad.
Language programs abroad must be approved by the U.S. Department of Education and are typically only approved for intermediate and advanced language study (FLAS fellows are responsible for initiating this approval process at least 60 days prior to departure).
Language programs abroad must also be coordinated with the University of Illinois Study Abroad Office.
Prior approval required from the Department of Education:
For ALL FLAS awards to be used abroad.
For ALL domestic dissertation research/writing awards.
For a ruling on a specific request for study in Latin, Sanskrit, Greek, Classical Chinese, or language not on the CGS approved FLAS language list.
Illinois Fellowship Policy and Guidelines:
Campus Policy: no student on limited status can hold a fellowship
Students with EXs and Fs on their records are not assigned equal status in the competition with students who have completed their course and program requirements. EXs and Fs should be explained as part of the application.
TO COMPLETE THE ONLINE APPLICATION, YOU WILL NEED:
Email addresses for two people who have agreed to complete letters of recommendation: one must be from your academic advisor and one must be from your most recent language instructor (except for students applying for beginning language instruction).  The application will prompt you to submit contact information, which will generate recommendation requests.
Digital copies of Graduate and Undergraduate Transcripts (copies from your departmental file are acceptable); unofficial transcripts are acceptable.
Statement of Purpose: Essays should describe how the proposed language study fits in with your field of study; how you intend to use the language; and how the language and area study will contribute to your ultimate career goals. Please also describe your previous language learning experiences (formal and informal). In your statement of purpose, you should clearly describe why you plan to study a language during the academic year.
Please note that applicants applying for both academic year and summer programs can do so by completing one online application.  In your statement of purpose, you should clearly describe why you plan to study a language during both the academic year and/or summer.
For more information and a link to the application, visit the FLAS fellowship website
CGS FLAS Contact
If you have questions about the CGS FLAS program, please e-mail: tpollack@illinois.edu.
Sign-up for the CGS list-servs, Twitter, or Facebook page to get updates on FLAS and other CGS programs.