About CGS
As part of the Illinois Global Institute, the Center for Global Studies (CGS) globalizes the research, teaching, and outreach missions of the University of Illinois at Urbana-Champaign. The Center is a National Resource Center in Global Studies designated by the U.S. Department of Education.
Mission
Our mission aims to promote and support innovative research to better understand global issues confronting the world's populations and identify ways to cope with and resolve these challenges. To achieve these goals, we work to:
Partner with faculty and disciplinary units to develop new courses and degree programs in global studies.
Facilitate deep understanding of the values, thinking, practices, and aspirations of the world's diverse cultures and the acquisition of advanced language skills in Less Commonly Taught Languages.
Develop teaching resources, professional training opportunities, and public programs in global studies for researchers, educators, students, business leaders, media, governmental agencies, civic organizations, and all members of the public concerned with understanding and solving global problems.
Clusters of Excellence
Image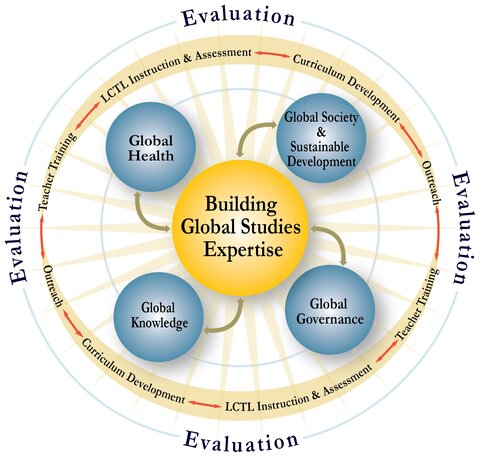 CGS organizes the complex dimensions of global studies, research, teaching, and outreach into Clusters of Excellence that bridge disciplines, regions, and professions. The four clusters of excellence listed below build global studies expertise, available to government and non-government decision-makers in key policy areas.
Global Health
Global Society & Sustainable Development
Global Knowledge (Education/Library/Informatics/Media)
Global Governance (Security/Law/Human Rights)
For additional information about the Center, please contact the Director, Steven Witt, at swwitt@illinois.edu.