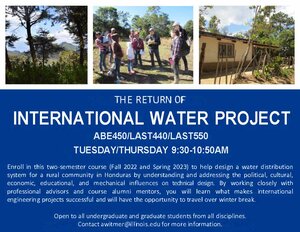 Enroll in this two-semester course (Fall 2022 and Spring 2023) to help design a water distribution system for a rural community in Honduras by understanding and addressing the political, cultural, economic, educational, and mechanical influences on technical design. By working closely with professional advisors and course alumni mentors, you will learn what makes international engineering projects successful and will have the opportunity to travel over winter break. 
Open to all undergraduate and graduate students from all disciplines. 
TUESDAY/THURSDAY 9:30-10:50AM 
Contact awitmer@illinois.edu for more information. 
Course Link: https://courses.illinois.edu/schedule/2022/fall/ABE/450